And for some reason I feel more violated by this small action than just about anything else I can remember of late. The aforementioned incident occurred as I was returning from a low carb study at the University of Connecticut. Conducted under the auspices of Dr. Jeff Volek, the FASTER study will be the most comprehensive analysis of LC athletes ever performed. Here are some of the very interesting things I learned picking the brains' of the research team.
1. For every O2 molecule available the adapted keto athlete will produce more ATP than the high carb athlete. I was assured that keto athletes have a high altitude advantage even at 22k ft and 9% oxygen. (Relevant for my Mt. climb expedition in Jan 2014)
2. Post exercise consumption of the amino acid argenine is worse than consuming pure sugar for maintaining ketosis. Protein / amino acid supplementation post workout is not needed until you are hungry. Vast amounts of (
Tyrosine
?
) will flood the blood steam of a keto adapated athlete post workout and prevent catabolism of muscle. This is not found to be true in high carb athletes. Above 2.5g would produce a noticeable impact on post exercise ketosis. Here are some argenine quantities per 100g of food.
tuna 1.7g
salmon 1.2g
raw egg yolk 1.10g (0.2g / yolk or 0.4g / egg)
tofu 0.6g
almonds 2.5g
beef 1.3g
3. At 88% of my VO2 max I personally was burning 50% fat and 50% carbs. This seems to validate the statement that when running keto you don't need to limit yourself to MAF heart rate for fat loss. But MAF prioritizes long term health so, you may want to consider a happy medium. Additionally at 65% of VO2 I was 5 bpm below my MAF HR. This is where things get screwy. RQ data shows that 108% of my energy requirements were coming from fat and -8% from carbs. The explanation for this was very difficult for me to understand but this is what I gleaned. A.) The RQ doesn't account for % energy used directly as ketones. B.) Because of ketones oxygen breathed in isn't being oxidized and converted into CO2 so there is a much higher volume of oxygen leaving then lungs C.) Keto athletes break all the textbook rules! Thankfully they are using other methods of measurement to get this same information and find out what is really going on (the results haven't been given to me).
4. Keto adapted athletes have vastly superior lactate clearing abilities. Here is a graph from the following website:
http://www.lactate.com/lactate_threshold.html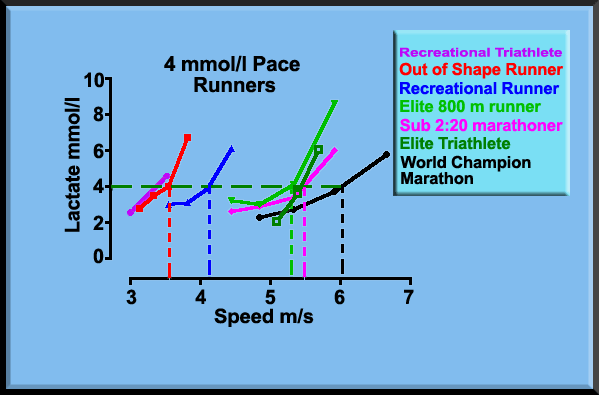 I don't have my graphs but I do have some number I tried to memorize while they were running the test. My curve ends at 6 mmol/l and 5.4 m/s. I will leave a comment if and when I get the rest of the data. My VO2 max was 64.3 which is about where I would have guessed it to be.
I'm sure there was lots of other stuff I learned but I can't remember it right now.
Here is a video of me in testing. 3 hours on that treadmill was way too long for someone used to trail running.
-zoom zoom